By J.D. Alt
Many years ago, I had occasion to spend a long weekend at Ramuda Ranch in Arizona—a rehab facility where young women are helped to learn how to want to eat food again. Anyone who has had a personal encounter with Anorexia Nervosa knows what a mystifying and frightening experience it is. The young women I saw there—all of them well above average intelligence-wise, many of them stunningly beautiful in a physical sense—all suffered from the same delusion: they had convinced themselves that eating, taking nourishment into their bodies, was pathological. The delusion had variations: some of the adolescent girls looked into the mirror and—in spite of the fact they were five feet eight inches tall and weighed only 75 pounds—SAW a body that was grotesquely over-weight and fat. Others seemed to have a disconnected relationship with their bodies, as if they personally were one thing and their body another—and the "other" was something that, for complex, obscure, and compelling reasons, deserved punishment and starvation. For those of us who were visitors, observing this irrational and self-destructing behavior in young women, who otherwise seemed perfectly normal and healthy, was perplexing and painful.
I was reminded of Ramuda Ranch last Friday as I watched our nation's leaders explain to the American people why America must now impose a new austerity upon itself. By what process, I wondered, have we convinced ourselves that we do not have enough U.S. Dollars to pay ourselves to create the goods and services we need to prosper as a society? What exactly is the "fiscal crisis" that we see when we look in the mirror? How is it that we view our national community with such detachment that we can knowingly impose upon it a painful—and unnecessary—deprivation? How can it be that we view the spending of our OWN sovereign currency to create public goods and services—the essential nourishment of our private economy—as creating a "deficit" that we must somehow repay to someone in the future? How have we bought into this massive delusion? And where is the rehab center, the clinical psychologists and counselors, who will help us overcome it?
A few years ago, when the hysteria about the nation's "deficit" first emerged, President Obama could have calmly pointed out that because the sovereign government issues the nation's currency and spends it into the private sector, having a sovereign "deficit" is actually a GOOD thing. He could have shown the American people a simple chart and patiently explained that the federal government CAN'T limit its spending to what it collects back in taxes (creating a "balanced budget") because that would mean no net new Dollars would remain in the private accounts of citizens and businesses—in a real sense, the private economy would begin starving.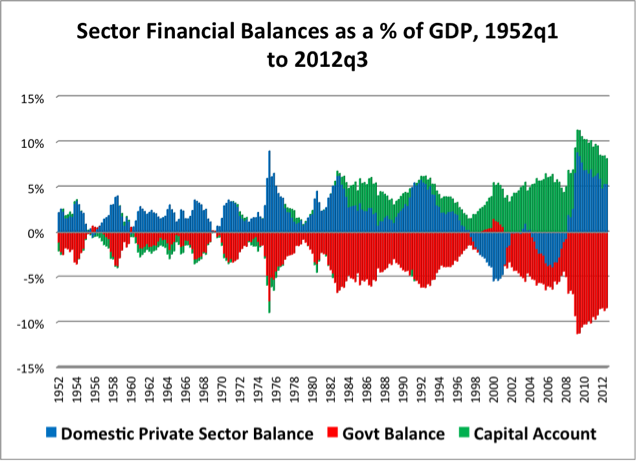 To back up that chart, he could have unveiled an even simpler one created by Dr. Stephanie Kelton at the University of Missouri Kansas City—a Teeter-Totter with numbers on it that explains the startlingly simple relationship between sovereign "deficits" and private wealth.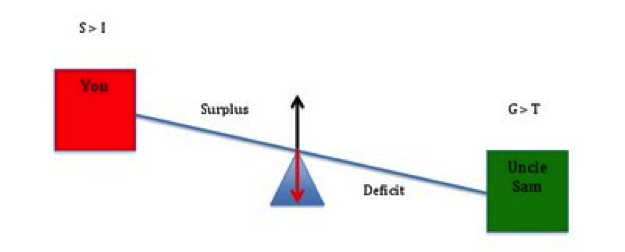 Choosing his words carefully, he could have helped the American people understand that the Clinton era government surpluses actually were a BAD thing because they subtracted trillions of dollars of wealth from the accounts of private citizens—forcing those citizens to BORROW more and more dollars to maintain their lifestyles, unleashing a borrowing spree that was happily accommodated by a deregulated financial industry with ever more clever and dangerous lending products. He could have compassionately commiserated with the millions of American families who lost their homes AND their jobs when this credit bubble burst just before he took office in 2008. He could have apologized for being forced to re-capitalize the U.S. banks that lost it all by defrauding American mortgage holders and then gambling their fraudulent proceeds with exotic bets. He could have declared a fierce determination to unwind the unfairness that was enabling the executives of those same banks to continue raking in personal fortunes, even as their institutions were being bailed out by the sovereign government. Finally, President Obama could have gently and courageously reminded us that our nation had been brought to its knees before by reckless financial titans—in 1929—and that we had, with Franklin Roosevelt's guidance, learned the REAL lessons of how to recover and build ourselves back to prosperity.
But President Obama didn't do any of those things. Instead he chose to make what I fear will turn out to be the biggest mistake of his political career: he decided to AGREE with the hysterical delusion that the U.S. sovereign government is broke. He decided to hold up the mirror and say, "Yes, we DO have to reduce our nation's deficit. Yes, we ARE spending too much creating public goods and services. We ARE going to have to tighten our belts and get a little bit skinnier. But my promise to the American people is that we're going to starve ourselves a little more slowly—and we're going to do it in a 'balanced way' so the pain is distributed more fairly."
I go back in my mind to that long week-end at Remuda Ranch. It was, in many ways, an experience that shattered my basic optimism about the power of rational thinking. Right now I'm having similar feelings—a kind of helplessness. The good news is, I know from personal experience that, with perseverance, delusions CAN be broken and health restored.