By Marshall Auerback
(Readers may skip directly to the post. But why would you?)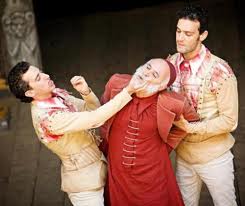 PORTIA
A pound of that same merchant's flesh is thine;
The court awards it, and the law doth give it.
SHYLOCK:
Most rightful judge!
PORTIA:
And you must cut this flesh from off his breast;(310)
The law allows it, and the court awards it.
SHYLOCK:
Most learned judge!—A sentence! come, prepare!
PORTIA:
Tarry a little;—there is something else.—
This bond doth give thee here no jot of blood;
The words expressly are, a pound of flesh:(315)
Take then thy bond, take thou thy pound of flesh;
But, in the cutting it, if thou dost shed
One drop of Christian blood, thy lands and goods
Are, by the laws of Venice, confiscate
Unto the state of Venice.(320)
GRATIANO:
O upright judge!—Mark, Jew;—O
learned judge!
SHYLOCK:
Is that the law?
PORTIA:
Thyself shalt see the act:
For, as thou urgest justice, be assur'd(325)
Thou shalt have justice, more than thou desirest.
GRATIANO:
O learned judge!—Mark, Jew;—a learned judge!
GRATIANO:
Oh, learned judge! Mark, Jew: a learned judge!
SHYLOCK:
I take this offer then,—pay the bond thrice
And let the Christian go.
BASSANIO:
Here is the money.(330)
PORTIA:
Soft;—
The Jew shall have all justice;—soft;—no haste;—
He shall have nothing but the penalty.
GRATIANO:
O Jew! an upright judge, a learned judge!
PORTIA:
Therefore prepare thee to cut off the flesh.(335)
Shed thou no blood; nor cut thou less, nor more,
But just a pound of flesh: if thou tak'st more,
Or less, than a just pound,—be it but so much
As makes it light, or heavy, in the substance,
Or the division of the twentieth part(340)
Of one poor scruple,—nay, if the scale do turn
But in the estimation of a hair,—
Thou diest and all thy goods are confiscate.
GRATIANO:
A second Daniel, a Daniel, Jew!
Now, infidel, I have thee on the hip.(345)
PORTIA:
Why doth the Jew pause? take thy forfeiture.
SHYLOCK:
Give me my principal, and let me go.
BASSANIO:
I have it ready for thee; here it is.
PORTIA:
He hath refus'd it in the open court;
He shall have merely justice and his bond.(350)
GRATIANO:
A Daniel, still say I; a second Daniel!—
I thank thee, Jew, for teaching me that word.
SHYLOCK:
Shall I not have barely my principal?
PORTIA:
Thou shalt have nothing but the forfeiture,
To be so taken at thy peril, Jew.(355)
SHYLOCK:
Why, then the devil give him good of it!
I'll stay no longer question. 
PORTIA:
Tarry, Jew;
The law hath yet another hold on you.
It is enacted in the laws of Venice,—(360)
If it be proved against an alien
That by direct or indirect attempts
He seek the life of any citizen,
The party 'gainst the which he doth contrive,
Shall seize one half his goods; the other half(365)
Comes to the privy coffer of the state;
And the offender's life lies in the mercy
Of the duke only, 'gainst all other voice.
In which predicament, I say, thou stand'st:
For it appears by manifest proceeding,(370)
That, indirectly, and directly too,
Thou hast contriv'd against the very life
Of the defendant; and thou hast incurr'd 
The danger formerly by me rehears'd.
Down, therefore, and beg mercy of the duke.(375)
The Merchant of Venice is one of Shakespeare's truly great comedies and serves as a useful morality tale for today's Eurozone. It is a tale that Germany ignores at its own peril, as it mechanistically demands its ongoing 'pound of flesh' from the increasingly hapless periphery in order to gain its political acceptance for greater support of the eurozone's weaker constituent parts.
As early as 1998, Professor Peter Garber recognized the euro's fatal flaw:  any possibility of a euro exit by one of the euro member countries would create the risk of a currency loss to parties involved in the euro area banking system. There is no parallel potential currency loss in the case of the U.S.  No state is going to pick up and run and form its own new currency (Rick Perry's mindless secessionist threats to the contrary in Texas). It is this potential for euro exit and subsequent currency loss that fuels the European bank run. And it is this potential for currency loss that prevents the private interbank system from recycling flight deposit funds from recipient nation banks back to the banks in those countries where the deposit run originates. With euro wide acceptance of a common currency, transferring deposits from a domestic commercial bank in one nation to a bank domiciled in another EU nation is costless. In a world of rational economic agents, any non-negligible perceived probability of euro exit and subsequent currency loss should result in a massive deposit run if there is any suspicion about the overall integrity of the system.
This is why the ECB has to step in and act as lender of last resort lynchpin in the system. There is no parallel need for such a role for Federal Reserve role in the U.S, given the existence of a United States of America fiscal authority which underpins the entire system.
So talk of euro bonds and deposit insurance and supranational bank supervision are fine, but they don't address this fundamental structural flaw.  There need to be political actions which eliminate any possibility that any constituent member can be cut down or thrown out, because such an action will simply undermine the overall integrity of the payments system and feed speculative doomsday machine which Garber has so eloquently articulated.
Germany's ongoing insistence of extracting pounds of flesh from the increasingly emaciated periphery has some of the inherent contradictions encapsulated in the lengthy exchange in The Merchant of Venice, which we cited above.   With their insistence on yet more austerity, they are being penny wise and pound foolish.
In the great Shakespearean comedy, Shylock agrees to lend money to Bassanio on the credit of Antonio, Shylock's Christian rival. Shylock, suspicious of Antonio, sets the security as a pound of Antonio's flesh. When Antonio's merchant ventures fail and he cannot come up with the money to pay off Bassanio's loan, Shylock demands the pound of flesh, which will surely kill Antonio. Of course, in the end, Shylock is foiled. Dressed as an eminent judge, Antonio's indirect beneficiary Portia takes Shylock's insistence on the letter of the bond to its absurd conclusion. The bond specified only a pound of flesh, she maintains, but "no jot of blood."
In much the same way, Germany's ongoing insistence on its pound of Spanish, Italian, Greek, or Irish flesh via further fiscal austerity is impossible to secure without spilling further massive quantities of blood from the periphery body politics. Like Shylock, Germany apparently fails to appreciate extracting too much flesh from the borrower ultimately does draw away its lifeblood, making repayment impossible.  Much like Shylock, Berlin is trapped.  Only the ECB as "judge" can offer a way out.   Will Germany see that, or will it risk a fate as ignominious as Shylock?