By Pavlina R. Tcherneva
A recent report on the State of America's Children revealed distressing statistics. More than 1 in 5 children live in poverty in the U.S., by far the most impoverished age group in the nation. Between 2008 and 2009 child poverty jumped 10%, the single largest annual jump in the data's history. While the U.S. is the wealthiest nation in the world in terms of GDP (and # of billionaires), it ranks last in relative child poverty among all industrialized nations.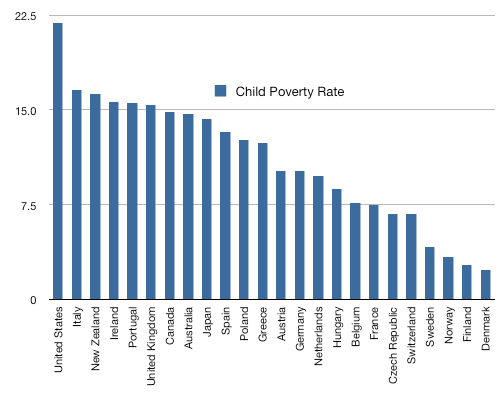 source: http://yglesias.thinkprogress.org/
Overall we have 46.3 million people in poverty in the U.S. (the largest number in the postwar era), which is 14.3% of the total population—a percentage that has been trending up since 2000.